Captain's Away Weekend 9th June – 11th June 2023
Great weekend away, thanks to all who supported the event.
Thanks also to Windmill Village for looking after us so well.
Needless to say we all had a ball. The venue and weather were amazing
The weather was brilliant, lovely sunshine all weekend.
Lorna
---
St Patrick's Day Texas Scramble – 18th March 2023
Despite the recent poor weather and the impact on the course, we were fortunate to be able to hold our annual St. Patrick's competition.
We had three teams of three playing in our Texas scramble, a big thank you to all those who turned out.
The winners were :-
Kate Cameron, Anne Burbidge and Joy Gregory
Runners up were :-
Cath Arnold, Alison Marr and Allison Watson
We then held a quiz in the clubhouse to raise funds our Captains charity, Lakelands Day Hospice.
A great day was had by all
Lorna


---
Prize Giving 2022
Well it's hard to believe we have come to the end of another golfing year, as they say Tempus Fugit. It has been a privilege and a joy to be your Captain but now the time has come to pass the Captaincy over to Lorna who I know will be a fantastic Captain.
I would also like to thank the Committee for all their help and support during this year
Also Gordon Cran for updating the web site his help has been invaluable.
Finally, I would like to thank each and everyone of you for your friendship and support throughout the year. Also your incredible generosity in raising
£1753.12 for the Samaritans and £225 for Corby Food Bank a truly outstanding amount of money. Thank you one and all.

As always many congratulations to all the trophy winners.
Bogey Trophy. Kate Cameron
Dorothy Bennett Trophy. Maria Kealey
Phil Ackroyd Trophy. Cathy Halloran
Bill Crossan Trophy. Kate Cameron
Audrey Veale Trophy. Mandy Kane
Club Championship Trophy. Kate Cameron
Chris Cran Autumn Cup. Maria Kealey.
The Woolworth Cup. Joy Gregory

Also many congratulations to all monthly and mid week medals winners.
Maria
---
Mixed Doubles Day October 2022
It was that time of year when we have one of our most enjoyable days playing mixed doubles with our seniors.
We always look forward to this light hearted and enjoyable day,
A brilliant day was had by one and all and thankfully the weather stayed dry till the last 4 ball was nearly in.
The result was very close but the winners were Maria and John McConnell.


---
Lady Captain's Day 17th September 2022

Many thanks to everyone who took part in Lady Captains Day, the weather was brilliant and an excellent turn out and indeed one or two bunkers visited always helping the Samaritans Fund Raising.

Winners.
Kaye, Madeline, Julie M.

Runners Up.
Julie S, Kate, Cath.


---
Away Day at Rutland Water 14th August 2022
Our Away Day at Rutland Water took place on Sunday 14th August. Again we have been blessed with wonderful weather.
Our bacon rolls and coffee went down very well before we tee off, but the highlight was 50% discount off ladies golf clothing in the pro shop. Needless to say lots of shopping took place and some great bargains bought.
Winners of the Texas Scramble Competition
Ann T Kaye and Anne B
Runners up
Jackie Joanne, Rose,
Nearest the pin
Sue.
Maria
---
Captain v Vice Captain Saturday 13th August 2022
What a great day we had and as usual this summer the weather was fantastic.
The two teams Captains V Vice Captains were both in great spirits and another wonderful turn out.
The winners and runners up
Nearest the Pin Cath
1st Place Cath, Allison, Ann T and Alison M
2nd Place Kaye Joanne Madeline and June.
Another great day thank you to everyone.
Maria and Lorna
---
Our Weekend Away June 2022 – Forest of Arden
At long last our much anticipated weekend away was here, it had been delayed since June 2020 due to COVID.

Kaye and Maria agreed it would be a joint weekend away.
Once we arrived at the Forest Of Arden it took us all no time to explore all the facilities the hotel had to offer.

Although the two courses at Forest of Arden the Aylesford and the Forest of Arden Championship Course had their many and varied challenges everyone really enjoyed playing them.

There was also the pool and wonderful Spa facilities which many of the ladies made full use of. It was rather difficult to get everything fitted before our meal in the evening.

On Friday we played the slightly shorter course the Aylesford. Admittedly a few lost balls, lots of bunkers to get out of and the greens, incredibly fast but still great fun with lots of stories to discuss when relaxing with the odd drink or two or three!
On Saturday we played the Forest of Arden Championship course with a bit of trepidation, although it was rather long with lots of water again really enjoyable. Yes lots of balls lost, mainly in the water long fairways and greens like glass but a truly memorable occasion.

On the Sunday we went back to the Aylesford course.

All in all a great weekend away lots of golf ⛳️ lots of fun and laughter and one or two drinks 🍹 🍺🥤 for good measure.
What do you mean we have to play golf!!
Maria and Kaye
---
Ladies v Seniors Friday 20th May 2022
Well what a great day we had, the weather was lovely and the golf was pretty good also.
All of our team played really well, I think it was really a moral victory to us – well done everyone.
Unfortunately the official scores do not back me up, the Seniors said they won three games to two – so we will let them call it their win!!!.
There was lots of laughter plenty of banter within all the teams. Food was excellent again.

Looking forward to next year so we can got our own back.
Maria
---
St Patricks Day Competition 2022
Well we are now well in to March and the time is flying by.
We continue to have great weather and an even better turnout.
Again following the competition we had a quiz on Ireland.
A flavour of the questions are as follows-:
How many wheels does a Jaunting Car have?
Which two kinds of wood can a shillelagh be made from?
What do you do at the Blarney Stone?
Winners of the competition was-:
Julie Mason ,Cathy Halloran, Kate Cameron.
Equal second :-
Joyce Sutherland, Mandy Kane, Lorna Price, Cath Arnold and
Allison Watson, Joy Gregory Julie Sutherland

Many Congratulations to the winners

At the beginning of the year to assist in raising money for the Samaritans it was agreed if you visited a bunker you would donate 50p per bunker with a maximum payment of £2.00 in any round. I can confirm by end of March we have raised over £80.
So on behalf of the Samaritans many thanks to the ladies section for their incredible generosity.
There will be more news about Walk a Marathon in May watch this space
Maria
---
St Valentines Competition 2022
Once again great weather and a wonderful turnout.
Following the golf we had a short quiz on St Valentines Day, some of the questions included-:

The capital of Turkmenistan means 'city of love' can you name it ?
Who wrote Tis better to have loved and lost than never to of loved at all?
Name the Roman Goddess of Love.?

The winners of the competition was-:
Julie Sutherland, Janet Anderson, Jackie Dowswell, Cathy HalloranEqual second Kate Cameron, Joy Gregory, Jean Buchan, Ann Burbidge and
Joanne Heald, Lorna Price, Kaye York, Rose West.
Many Congratulations to the winners.
Maria
---
Rabbie Burns 2022
Yet again we had another great turn out and favourable weather.
The format was the usual Texas Scramble. Following the game we had a world exclusive of Rose reading another one of her original poems.
We also had Jean, the well known authority on Robbie Burns, reading one of Robbie's beloved poems.
The winners of the Robbie Burns Competition:-
Ann Thompson, Madeline Davidson, Jean Buchan.
Joint second
Joyce Sutherland Joy Gregory Joanne Heald
and Mandy Kane, Julie Mason and Jackie Dowswell

Many Congratulations to the winners and runner up.
Maria
---
Welcome to 2022
We welcome in 2022 and as we move towards the end of COVID restrictions.
We hope the worst of the pandemic is behind us and look forward to a new year playing golf with all our friends in the ladies golf section.
The Samaritans is my chosen charity and I am so pleased to share with you the Mens and Seniors Sections have agreed to adopt this charity also.
So a huge thanks to Paul Fennessy Mens Captain, John McConnell Seniors Captain and Adam Smith and his team.
---
Turkey Trot 4th December 2021
We had a great turnout for our annual Turkey Trot and the weather was also very kind to us. We decided instead of having our Secret Santa this year we would donate the money to Corby FoodBank. We also had a prize draw with many of the prizes being donated by the ladies In total we raised a magnificent amount of £225.
The Corby FoodBank was very appreciative of our efforts. (See letter below).
The Samaritans will be Captains Charity from 1st January 2022 more news of that in the near future.
Jackie won best dressed Santa in a very fetching Santa Dress Winners of the Texas Scramble was -: Ann Thomson, Anne Burbidge, Layla OConnor, Jackie Dowswell,
Runners Up. Kate Cameron, Sue Lawson, Joyce Sutherland, Julie Mason.
Congratulations to all the winners and everyone who took part.
FoodBankLetter

---
AGM / Prize Giving in October 2021
Well we have reached the end of another golfing year and it is my time to pass the Captaincy over to Maria.
Congratulations to everyone that has won a prize this year. Thank you all for your amazing support, I have absolutely loved being your Captain, Maria will be a fantastic Captain for us all, she has helped me so much these past two years, I really couldn't have done it without her or the rest of the committee.
Thank you to Gordon for putting our photos onto the website.
And a big thank you for your donations throughout the two years, together we have raised £470.00 for The UK Sepsis Trust'
Kaye
Lady Captains Day 18th September 2021
Thank you to Mandy and Mark for playing the bagpipes for us, you were amazing!!!!
---
A big thank you to everyone that was able to be there on Saturday, we had a good turnout, the sun shone for us, plenty of laughter and a little surprise to finish the day.
Thank you to Maria and Cathy for taking photos for me 😊 Also thank you for your donations to The UK Sepsis Trust, as some of you will know this is a cause close to my heart and I am overwhelmed by your generosity once again, you donated a total of £121 THANK YOU xxxxx
Congratulations to the winners
Nearest the Pin – Julie Mason
Putting Competition – Julie Mason
2nd Place – Team 3
Ann T
Julie S
Cathy
1st Place – Team 2
Maria
Rachael
Jean
Anne B
Kaye
Friendly Matches June & July 21
Well we are in July already, how did that happen?!
The course is in amazing condition, we have received our new ladies tops and even the website has had a revamp.
The ladies are delighted to be playing golf again, and we are nearly back to normal, we have been playing our monthly medals and competitions again and we have already played two friendly matches.
The first match was away at Oundle on 25th June, it was a bit windy, but the rain stayed away. The course was lovely and the Oundle Ladies were so welcoming, apart from the result (losing 3 – 0 ☹ ) we had a great day.
The second match was at home against Kingsthorpe on the 1st July, a beautiful sunny day and a good result as well (winning 2 – 1 🙂 ) thank you to Maria for organising and hosting this match, great company a good time was had by all.
Well done ladies!
Kaye
Turkey Trot 6th December 2020
We had a wonderful turnout, we sold some gift bags with golf balls and tees, all proceeds went to my charity 'The UK Sepsis Trust' , on the day with these sales and donations the ladies donated £101 to my charity, which I am overwhelmed by.

In total from last years Turkey Trot up to this event, I have collected £344.30 in donations which is amazing.
We also decided that instead of buying gifts for the Secret Santa this year, we would make a donation towards the Corby Food Bank and again the ladies have been so generous and we have collected £135.00 for this.
I think everyone had a good day, big congratulations to the winners
Ann T
Jackie
Layla
Madeline
Onward and upwards to 2021.
Kaye
As we reach the end of the 2020 season, what can I say 'What a year!'
We have had some very low lows and also some very high highs, we have said goodbye to Chris our current club champion and past captain and we have also welcomed some wonderful new members.
During lockdown we all missed our golf and the comradery that we have in our ladies section, but we have supported each other and come out of it stronger and I think appreciating each other that little bit more.
Thank you for your support in this challenging year, you have all embraced the changes and I have learnt so much. I love you all x
Here are some of the photos from the 'fun competitions' we have had this year. Enjoy !
All the best for the new season
Happy Golfing
Kaye
---
St Patricks Day Competition 14th March 2020
Congratulations to the winners:-
Ann Thompson
Julie Sutherland
Cathy Halloran
Joanne Heald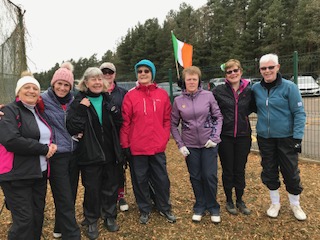 Thanks to all who took part
Kaye
---
Valentine Competition 15 / 22 February 2020
Unfortunately the Valentines Competition in its normal format was cancelled due to the arrival of Storm Denis,but we managed to come up with an alternative.
A big thank you to those that attended our indoor get together, with target practice and nearest the PIN competitions, which proved to me most enjoyable.
An even bigger thank you for donations of £55 collected for The UK Sepsis Trust.
Looking forward to better weather for our St Patrick's Competition next month.
Happy Golfing

Kaye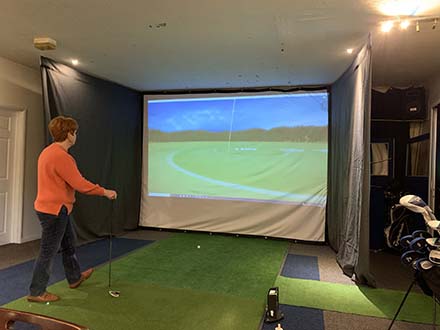 ---
Rabbie Burns Competiton 25 January 2020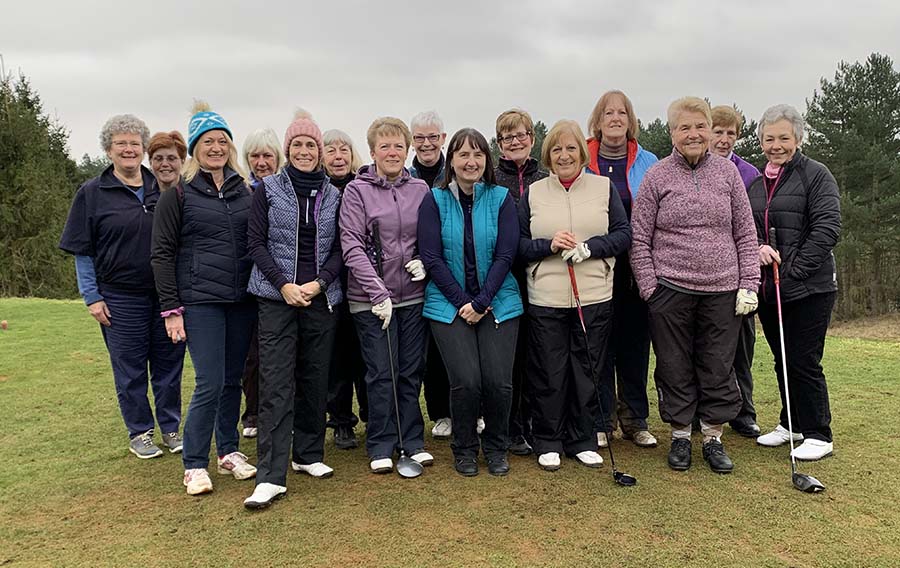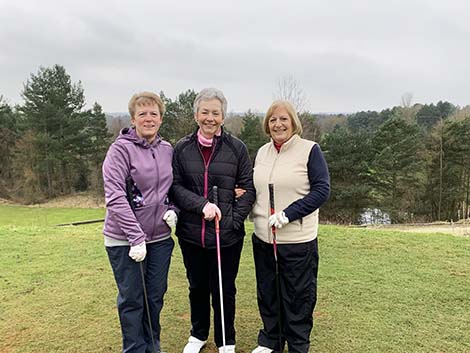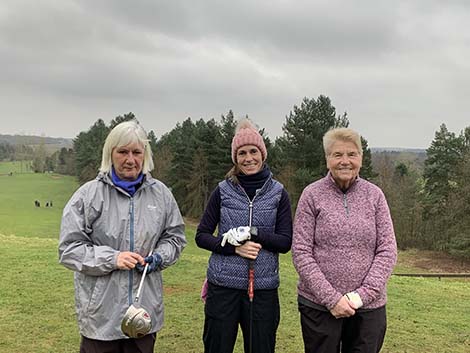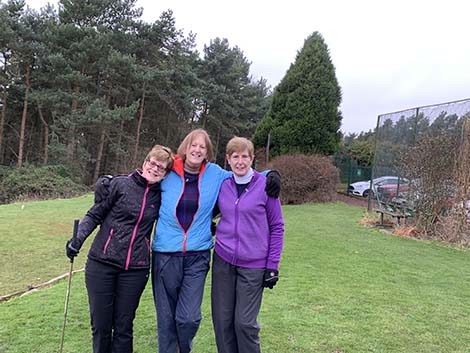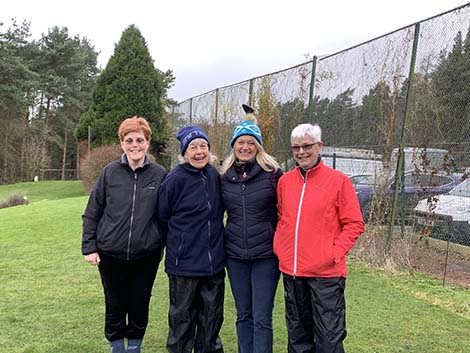 Thank you to those that entered the competition, I am sorry I could not join you this time, but hopefully I will be playing again soon. Congratulations to the winning team of Jean, Julie, Maria and Cath, it was very close between all groups and also to Rose for winning nearest the PIN. A big thank you also to Rose and Jean for entertaining us with your wonderful poems. Hope to you see you all soon.
Kaye
---
Poem from Rose – our own "Rabbie Burns"

Jimmy couldnae play cos his wife was in a strop.
She stood still like a volcano and then she blew her top.
Words came pouring out and flowed like lava down a crater.
Jimmy stood and took it : he knew she'd calm down later.
Meanwhile at the course it was a cold but sunny day
So Angus decided that he wiz goin' tae play.
He'd go out there to play like he'd never played before
And make Jimmy proud with his amazingly good score.
On the first tee Angus stood ready to hit the ba' so sweetly.
Muscles rippling he powerfully swung but…missed the ba' completely.
"Ocks that was just a practise", he was heard to say
And the next shot was good so he wis on his way.
After another practise shot he landed on the green
He picked the ba' up, cleaned it but forgot where it had been.
So Angus placed it near the hole: He knew it hadn't been far
Then with a majestic putting stroke Angus got his par.
The game progressed and soon Angus reached hole 9
He was thrilled to see his score was awfae, awfae fine.
True sometimes bunkers or rough got in his way
But kind winter rules surely deemed them out of play.
On the 18th hole Angus admitted he found the going hard
But one over par was not too bad, he wrote it on his card
Just 2 over par for the round! Angus bristled with pride.
He felt a glow of happiness begin to spread inside inside.
But by now his legs were feeling rather heavy
Time for a fish supper and maybe even a bevy.
If Jimmy's wife had now eventually calmed down
Maybe they could even get a night out on the town.
Angus knew Jimmy would be so pleased to hear
How Angus had got the best round of the year.
How although he'd played alone that day
He had been a champion all the way.
---
Christmas Competition 7 December 2019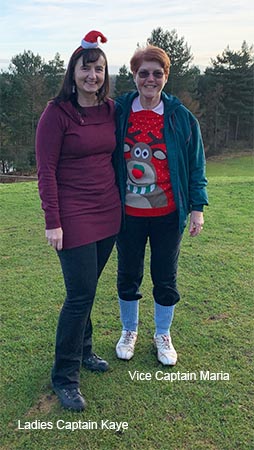 Message from Ladies Captain Kaye

Good to get the new season started. The weather has been pretty wet of late, the course has stood up very well. Although the ground was very wet, we made the most of our Texas scramble.
My charity this year is the Sepsis Trust, it exists to fight this life-threatening condition, stop preventable deaths and support those affected by sepsis. I hope that with your support we can do our best to help what I am sure you will agree is a very worthwhile cause.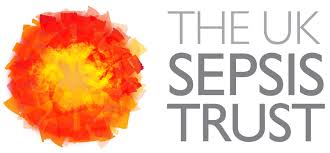 It was so nice to see everyone in the seasonal spirit with their lovely Christmas inspired outfits, thank you for making it special.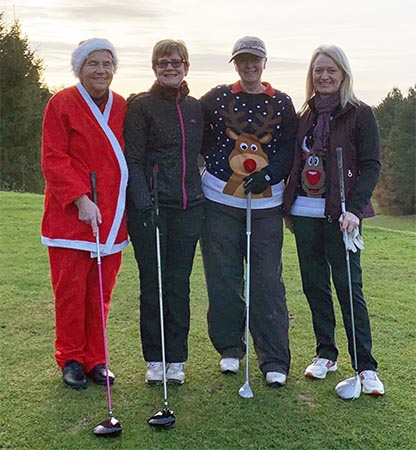 The winners on the day were Team 4, Janet, Cath, Sue and JulieS – congratulations and well done. The hamper raffled for my charity was won by Alison. Thanks again for your support, we raised £74.
Thanks to everyone who took part. It was an excellent day and I hope everyone enjoyed their Christmas lunch.
Kaye